I'm going to do my best to give MY report on the place and I think I'll do it in the form of a log (as if I was doing it at the end of every day).
FYI - Here is a link to all the pictures from the trip

http://s22.photobucket.com/albums/b308/tyler_root/Cancun2007/
Day 1
We got up EARLY for this day (3am), so we could hitch a ride with Russ to the airport. He starts work at 4am and our flight left at 6am, so we figured we'd be getting there about 45 minutes before we actually should be there. Russ was very gracious to go out of his way to pick us up and we really appreciate it.
The flight was pretty uneventful. Alene and I tried to get a little shut-eye, but that's impossible for me. I was awoken by the loud snoring of a polynesian dude that decided since nobody was in the 3 seats behind us, he would lay down there and sleep.
I started to read this book I bought, Lone Survivor, about Marcus Lutrell, who is a Navy Seal and was the only survivor of one of the worst losses of life to our special forces in Afghanistan back in 2005. I'll have a synopsis of the book in another blog post. Needless to say, it's a GREAT book in my opinion.
Anyway, as we finally flew in over the Yucatan Peninsula, it was amazing to see the blue ocean and the jungle below us. There were many clear-cut areas where trees were just mowed down and huge open/rough fields looked like they were cleared to build houses, but no houses and no activity. As we landed and we started to get off the plane, the reality of being in another country started to scare me a bit. I have no idea why. I immediately noticed the smell of this new country and tried me best, throughout the whole trip, to have an open mind about this other culture. I mean, how different can they be from us? We're just above them.
My first fear was being approached by the Federalies. I hear they're notorious for trying to basically rob you of any money you have. When we waited at the baggage claim, one of them came by with a dog. He was making the dog sniff everyone as they stood by and sniffing the luggage as it went around the baggage claim belt. Every once in a while he would start tugging at someones stuff and saying things to them in broken english about what was inside their bags and he wanted to see.
We finally got our stuff and headed to get our passports stamped so we could officially enter the country. We were immediately approached by what seamed like 1 billion timeshare salesmen, acting like they were there to give us some information about the city and trying to get us to sign up for a free activity if we listened to their presentation. We declined and went out to find our shuttle.
The outside air was refreshing and warm. The shuttle ride from the airport to the hotel was about 20 minutes. I noticed that these guys have basically no regard for rules of driving. No turn signals, speeding, tailgating, flooring their car any chance they could get. I felt like I was home in Utah, but a little more frightened because I was the passenger.
When we arrived at our Hotel, we were greeted by "Roger", who was very nice, but little did we know he was another scummy sales guy, trying to talk us into a timeshare presentation or something like that. At first we were confused because he offered us breakfast as this place in the hotel the next morning. We were a bit confused because we thought he was helping us, but later we realized it was a timeshare presentation, so we decided to skip out on it (and it eventually pissed him off because when I told him over the phone, he just hung up on us).
We got to our room and found it nice enough for this trip. Alene loved the shower (black marble). My first observation about everything in the hotel was that the Mexican people are obviously known as hard workers, but when it came to building things, attention to detail was not too important. Just check out
this paintbrush
someone decided to leave when they last painted the place. It was stuck to the wall, in a little corner by the stairwell. I also noticed they like to use a lot of reebar instead of steel. Let's just say I was happy an earthquake didn't happen while we were there.
Enough nit-picking, because I really enjoyed the trip.
We immediately put on our swimwear and headed down toward the beach. All the food places were closed from about 4pm to 6pm, so we were hungry, but we decided to kill time at the beach. I didn't hesitate to jump in. I've always seen pictures of this clear blue water and I wanted to experience it. The funny thing is, you know it's the ocean in the pictures, but you never imagine it's as salty as the ocean of the pacific, even though it's still the ocean. I didn't go to gulp down ocean water, but I was immediately reminded it's JUST AS SALTY as the pacific, if not more. That water stung my eyes so badly and was terrible. If I stayed in it too long, I started to get nausious, either way, being out there made it worth it.
Here is a picture of me first getting in. It was after 5pm and the sun was setting, but I didn't care, I wanted in.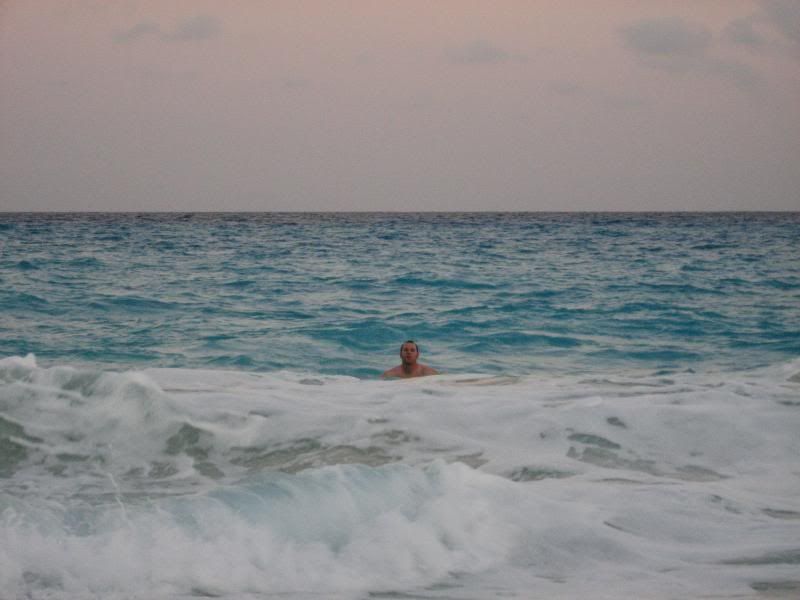 Here is Alene on the beach when we first got there.
Here is part of our Hotel (there were 5 separate buildings)
And finally, here I am attempting to body surf these toilet bowl waves. Notice the first day white belly and back.
I will post Day two when I have a chance.
Day 2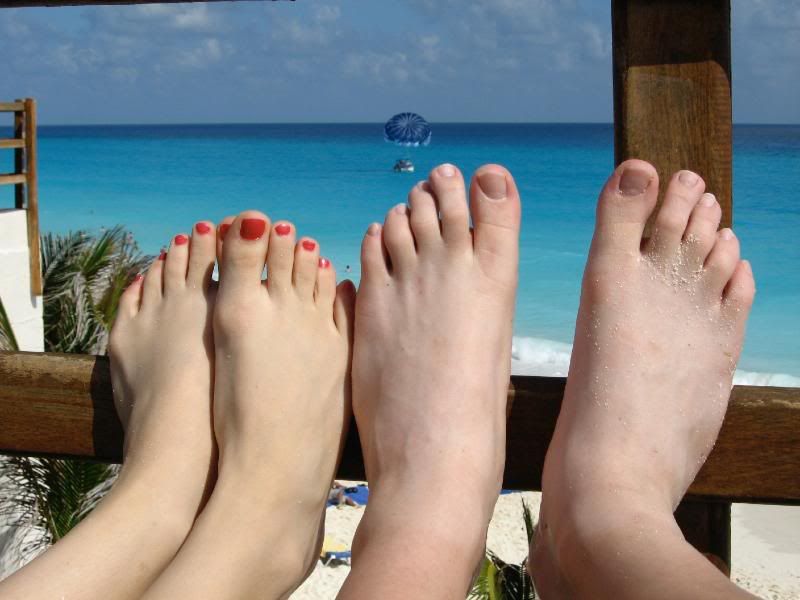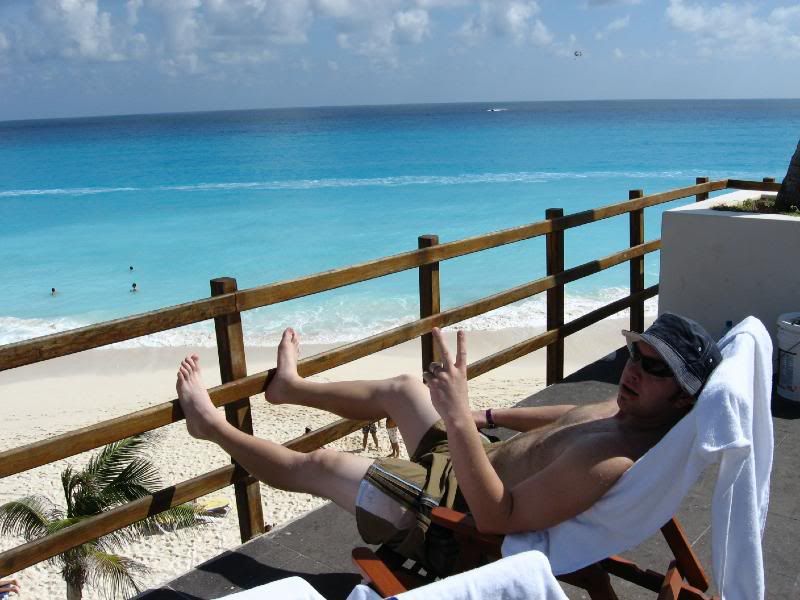 On the 2nd day, we had planned to just hang out at the resort and get familiar with our surroundings. We spent a good portion of it lounging by the pool or going into the ocean.
Our options for dining were (in my personal order of quality): a couple of shacks that served hamburgers/hot dogs/fries/drinks, International Buffet, Italian Buffet, Medditeranian restaurant, Mexican restaurant (the best chips/quacamole, Thai restaurant, and a Rodizo steakhouse. For breakfast, on every day, we chose the international buffet because it was quick and painless. However, one thing I discovered on that first day was how all their dairy products were either watered down, or lacked "cream", and their fruit juices were TOO concentrated and needed to be watered down. I took one sip of my milk there for breakfast and didn't have another one after that. I quickly started to find an appreciation for all things American (but knowingly it's because it's how I was raised). Almost every day for breakfast I ate the same thing: scrambled eggs, breakfast potatoes, toast, pineapple, and the occasional muffin. The mexican pastries were basically bread with some sort of frosting on it. They also serve beans and quesedillas for breakfast.
Here is a view of part of the pool behind us. The pool was SOOOO nice to swim in, but my only complaint is that there was no diving board or waterslide of some sort. That would have made it a blast.
The Hotel Zone is like a sand bar of hotels along the peninsula. Every major brand of hotel you can think of is there (Marriott, Hilton, Motel 6...just kidding). It reminded me of the strip in vegas, except without the large flashy lights (although it was still pretty bright outside at night) and the hotels were only along one side of the sand bar. We decided just to walk around a bit along the main road that runs along the hotels. It was here we experienced the hit and miss stench of the Lagoon on the other side of the sand bar.
Along the sand bar, opposite all the hotels are various shops (pharmacies, liquor stores, convenience stores and the occasional restaurant/fast food joint). We discovered down there that a regular hamburger at McDonalds was $3 (compared to $0.59 here).
This day was just a day to relax and that we did. At the end of the day, we took great care of our bodies to prevent the sunburn by using up as much alovera as we could. I drew a
smiley face
on my hairy chest. We were so anxious for the next day though....
Day 3
We got up EARLY for vacationers (6am). The reason: Chichen Itza. Prior to arriving, we purchased a tour of Chichen Itza. We got up early so we could get to breakfast by 7am, then have enough time to get picked up by the tour bus. We decided to arrive to the breakfast area at 6:50am and noticed they were already opened (the time said 7am). One thing we learned was that in Mexico, sometimes they open early. Sometimes they open on time, and sometimes they open late. Whatever works for them.
Same goes for the Bus. Our Bus was supposed to be there by 7:20, but did not pick us up until closer to 8:45. We started to get nervous because TONS of other people were getting picked up by their particular tour busses, but we weren't. When the last bus came, they did not call our name. I went and asked the Bus driver and he had our name spelled "Rot" on the passenger list. Good thing we checked.
They then took us to another parking lot where we got off and switched to another tour bus. Our Tour Guide was HILARIOUS. The dude had a great sense of humor. He started off asking people where they were from. When he got to Alene and I, we said Utah and immediately "are you mormons?" The whole bus errupted with laughter (as did we). I bet he was so used to seeing those book of mormon land tours cross his path. He also talked about the region (keep in mind, this was all over a microphone) and started saying how the main food source for them was Corn, just like Rice was for Asia, and the hamburger was for America. That got a lot of great laughs too.
We first made a bathroom stop at the border of the state we were leaving (Quintana Roo) and the state we were going into (Yucatan, I think??) and their
checkpoint
where there were
mexican military
men with machine guns and such, looking really intimidating. They didn't stop any of us or anything, but it was rather odd. It would be like seeing some army dude with a machine gun at the border of Utah and Nevada or something. I bought a nice cold coke and gulped that bad boy down. One funny note as we approached this area. Our tour guide said, "when we get there, make sure you all have your passports out and ready to show to the guards". Everyone gasped, then he started laughing. He was joking. Luckily, Alene and I had brought ours just in case.
After that, we made a stop at a Mayan Village where they had a Cenote, which is a deep and wide water well of sorts. They had steps you could walk down into to get to it (through a cave), and they allowed you to swim in it and even jump off a 15'-20' high area. They were VERY protective of the vines growing down into it and if you came close to touching them, the mayan dudes would blow their whistles. Alene and I were bummed because nobody told us to bring swimwear, so we did not get to jump in. I had shorts on, but I could not imagine walking around all day with wet shorts/undies and all the chaffing that creates.
Here is a picture of the Cenote and me walking down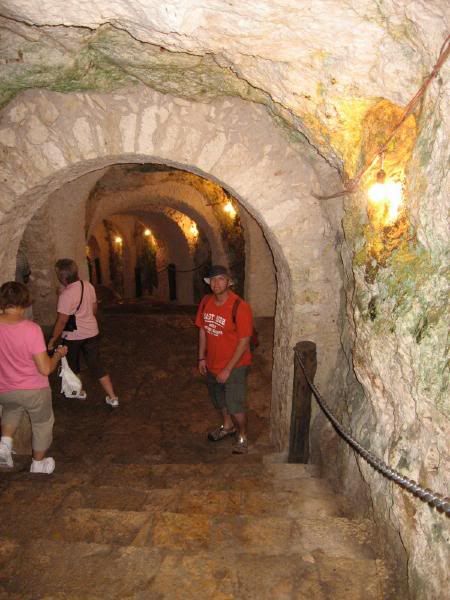 After the Cenote, we walked up to the store, where the Mayans were selling all sorts of locally made items. Little did we know, we could have purchased everything we wanted right there as EVERY Mayan person selling things, sold the exact same things (more on that for Saturdays trip). The bus then took us through an authentic mexican town, where there was a cool "town square" if you will. I did not get pictures of it, but it looked really nice. Everyone was just kind of hanging out. We then went to another smaller town and they took us to a restaurant place where they served us lunch. There, they had the HOTTEST pico salsa I've EVERY had in my life. I took a large bite of it, thinking it looked harmless (it looked like tomatoes and onions with a few peppers) and before I had been served my drink. I thought I was going to die. My eyes watered, my nose became runny, but I didn't really try to show how badly it hurt and toughed it out. During the eating, some of the local mayan's did this little dance for all of us (some sort of tap dancing), then they did it to another song with trays on their heads and glasses with water in them. Impressive.
After that, we got to where we'd been wanting to go the whole time: Chichen Itza. We arrived and the tour guide said we could opt to not go on his tour of the place and just look around ourselves. Alene and I BOOKED it off the bus because they only gave us a total of 3 hours to see it all (not enough time). The experience seeing the place was awesome. It was so amazing to think you were seeing these ancient buildings and grounds. Places fought over and places were odd rituals happened. I thought about how I could be standing on one spot where blood was shed by some poor Mayan indian who was captured from his villiage and taken there for a sacrifice of sorts (OK, the movie Apocalypto was still fresh on my mind).
As we made our way out to the park, we noticed the walkway out was LINED with local Mayans, there to sell all the products they either handmade (mostly the masks) or were selling little rock carvings of the pyramids made somewhere else (everyone was selling them, so it was obvious they were not made by the seller). They also had all sorts of jewelry and stuff like that. It was INSANE how much they tried to get you to just come look at their stuff. I was thinking, "Man, if only these people would come to SLC, I could hook them up with an AWESOME paying job as a collector at my work". The masks were really enticing to me. But I'll talk more about that later.
Alene and I decided to not buy anything at the beginning (so we didn't have to haul it around), so we headed straight for the main attraction of the site: the Temple of Kukulcan. We were both disappointed to find that it was roped off, so you could not walk to the top of it and you could not go inside of it (where there were some cool statues and stuff). Almost all the pyramid structures and many of the other structures were roped off. It sucked, but we understood.
Here we are at the backside of it
Here is Alene in front
The place was crawling with all sorts of things to see. As stated before, every path was covered with people trying to sell you things. It was nuts and almost took away from the excitement of seeing it because you spent a lot of time telling people no thanks or just ignoring them while you tried to enjoy the site.
Here are some other pictures from visiting:
Alene kissing her Mayan boyfriend carved on the face of that stone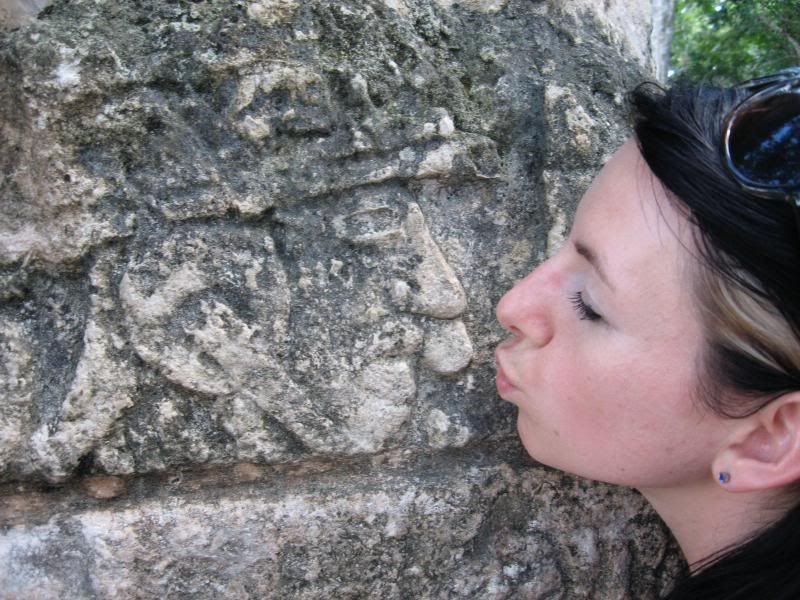 Alene in front of El Caracol, which is a space observatory they had built with a domed roof
The great Ball Court they used to play those weird basketball/soccer/spear the dudes on the court game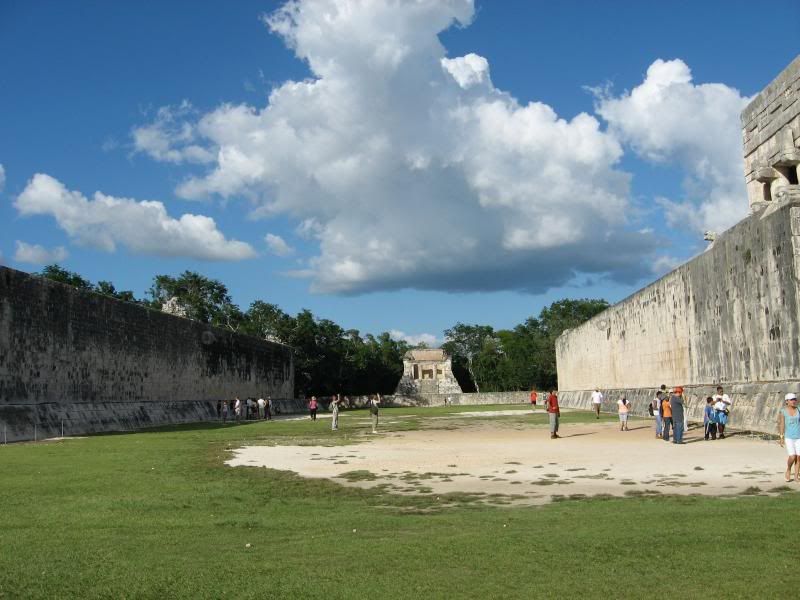 Me striking my best Heisman pose on the great ball court. I can't imagine having to play football while people threw spears at me.
Another Cenote (although this one did not look like a good one to swim in)
Finally, we set off the purchase some stuff. I spent a long time trying to talk this one dude down from $70 (his first offer) to $25 for one of those cool hand-carved Mayan masks. He would not go below $30, so I walked away and on my way out, found another dude on my way out with a Mask I liked. I tried to talk him down to $25 and he too would not budge. He went to $35. I told him I just walked away from someone that offered $30 and he took it. He tried to get me to give him my sunglasses with it, but I think he was just joking.
Here is my prized possession:
The bus ride back was in the dark, so most of the people slept and it gave me a good chance to devour my book I was reading. It was such an easy read, in fact the easiest thing I've ever read. I did not want to put it down because it was so tense, I wanted to see what would happen next.
When we got back to our hotel, we were exhausted. We got some dinner and I think we just went back to the hotel and watched TV. O Brother Where are't though was on, so that made for some good laughs. Speaking of, our TV was TINY and only got a few stations if you were lucky. Every once in a while they would broadcast a football game in spanish (American Football, that is). The other thing is funny, the only sports they talk about on the Mexican ESPN station is soccer. Nothing else. It's like soccer 24/7 down there. Every once in a while they would mention some NBA game, or a tennis match, but it was guaranteed if I turned to it, it was soccer.
Day 4
We had planned Saturday to go into the actual city of Cancun and visit the Market area. We figured it should be a great place to look and find some cool gifts and souvenirs. We were told earlier that the bus would cost $6.50 pesos ($0.65 American) for one ride, or we could pay double to be able to ride all day. Little did we find out those bus drivers are dishonest. Dude told me to pay $2 American and we could ride all day. When we got on the bus a second time, the driver just chuckled and said there was no such thing as an all day pass. He actually just charged us the standard rate (which was nice of him).
So, as we rode along the hotel zone, we saw a really nice looking shopping mall, so we decided to get off there just to walk around a bit and check the place out. We found an ATM and it was quite painless to get cash (just as easy as it is in America). I know that sounds crazy, but I thought it would be difficult. We shopped around the mall for an hour or so, but found that all the shops had the SAME THING. Same shirts, same statues, same trinkets. We were always on the look-out for something authentic, but could not find it.
We then hopped on the bus (where we found there was no such thing as round trip) and rode it into town to the market area. When we stepped off the bus, we were at some sort of intersection in the middle of Cancun. I had an idea of which direction to go (we forgot our map at the hotel, but I had read over it a bit) and I knew the Market would be East of the road we were on. We walked a few blocks in that direction and ran right into it. Immediately we were bombarded by people there wanting us to go spend money in their shops. It was CRAZY! In fact, I became so numb to it, it became easy to ignore everyone as they talked to me and to not make eye contact. I had to pretend they weren't there in my face, trying to sell me on something. If there was something we wanted to look at, they kept trying to shove all kinds of stuff in our face. I would turn to the guy and look him in the eye and say, "WAIT!" He understood. We spent close to an hour in the market area, then decided to get the hell out of dodge. Like the shops at the mall, they all were selling the same exact thing. Nothing unique (except for the hand-made leather shoes, purses, etc. that people were making on the spot). It was nuts though.
Getting back was a bit difficult too. We came in on a one-way road, so we were looking for the other road that headed back to the hotel zone. We found some people dressed in their hotel uniforms and we started to follow them, figuring they were walking to the bus stop. I started turning toward where I thought the hotel zone road would lead back and a local stopped me and anxiously wanted to help me go in the right direction. I gave him a couple of dollars for his help. He actually spoke VERY good English for a Mexican dude (better than some Mexicans that live here in the U.S.A.) and really was good about making sure we knew where we were going.
We got to the correct bus stop and found our bus. The bus driver, again, tried to scam us. This time he told me it was $5 American to ride the bus. I pointed at his sign, which said $6.50 pesos and he looked pissed. I handed him $11 pesos and walked in ($2 pesos short) and he didn't say a word. Alene and I were hungry and we decided to get off at another mall area to eat at the Hard Rock Cafe (we needed some American food). Right as we stepped off, we saw this restaurant: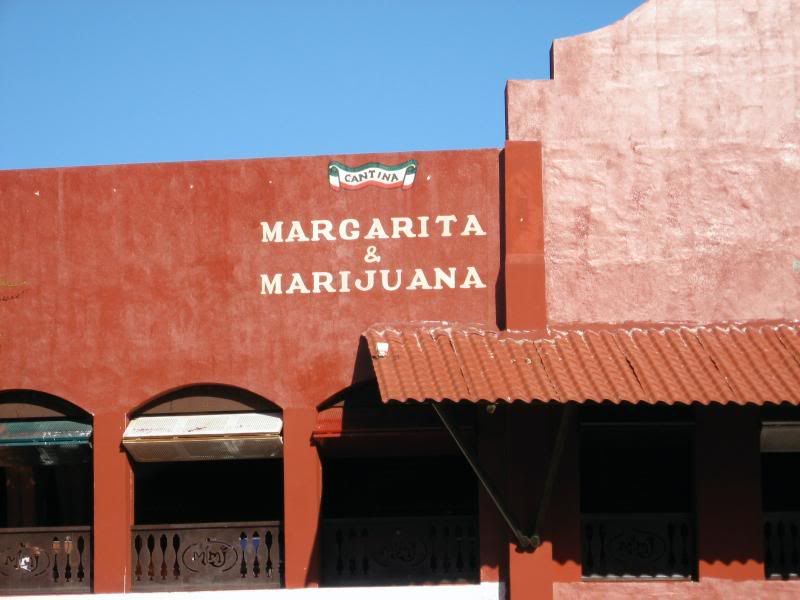 I'm sure whatever it is they drank and smoked in there, they had some sort of good time.
We ate at Hard Rock Cafe there and Alene was STOKED because the ceiling was painted with all kinds of local Mayan stuff, but also had a silhouette of the Beatles, which Alene loved and took this picture: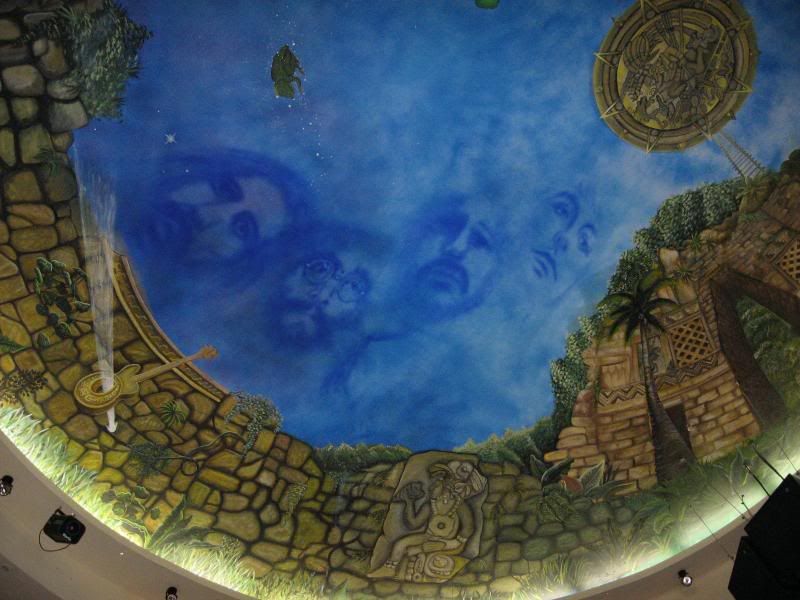 After eating, we walked through the Mall that the Hard Rock was located in, and there was an outdoor balcony facing the ocean, so we walked out there. I took this picture of what appeared to be some sort of snorkeling boat.
When we got back to the hotel, we did some more swimming and had some laughs about the sales phrases all the locals tried to use on us to get us into the store. We'd be walking by one place and a guy would yell, "Sir! Here it is!" or another would yell "Everything is just $1". They would also use the "Honeymooners! I have romantic jewelry for your new wife". It was great.

Day 5
This was a day I was looking forward to as well because we had purchased (while in Cancun) a jet-boat tour of the rivers that run through the lagoon and out onto the ocean to a reef where we could snorkel. I've never snokeled before, except for when I passed my snorkeling merit badge in a swimming pool. I was stoked to be able to try it in the ocean with an actual reef.
The jet boat tours are these little 2-seater boats you follow your guide in. It's basically like driving a real ski boat, only smaller.
Here is a picture of me driving one
We followed our guide through the lagoon and through these little rivers that run through groves of trees that grow in the lagoon (they called it a jungle tour, but I wouldn't exactly). Still, it was really cool to drive through and see the watter ripple off the boat and up against all the trees growing. Here are a couple of photos of driving through the river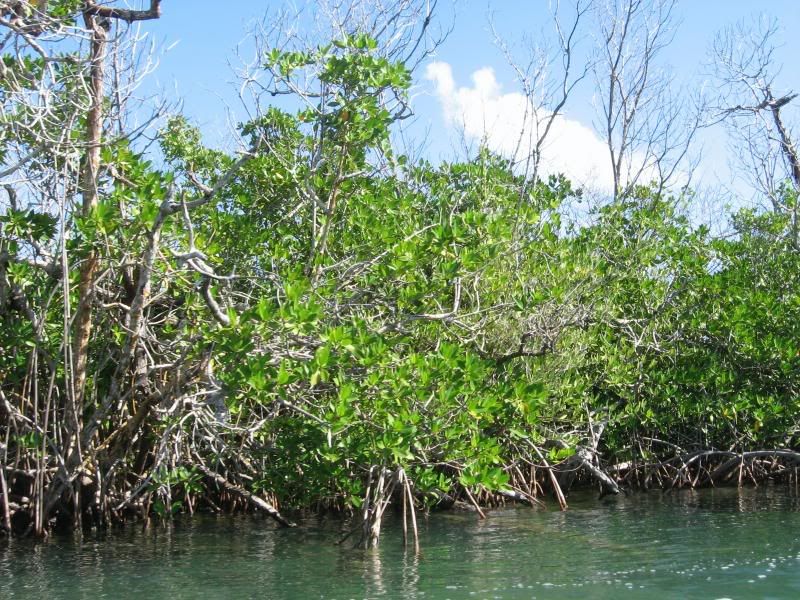 Once we got out onto the ocean, that is where it got interesting. The ocean was VERY choppy and wavey that day. The boat ride just getting out to the reef was pretty rough and by the time we got to the reef, our heads were aching (as were our tummies). The reef was only about 1/2 mile off shore and there were bouys that we tied up to once we got there. Alene and I jumped in and headed out to check out the reef. After a while in, Alene was feeling a bit sick, so she got back in the boat. I stayed out another 15 minutes or so to see what else I could, before I started feeling sick. The waves were rolling me up and down and every now and then I swallowed a small amount of salt water, so my stomach had about had it. We decided to leave, but before going our guide offered to take our picture for us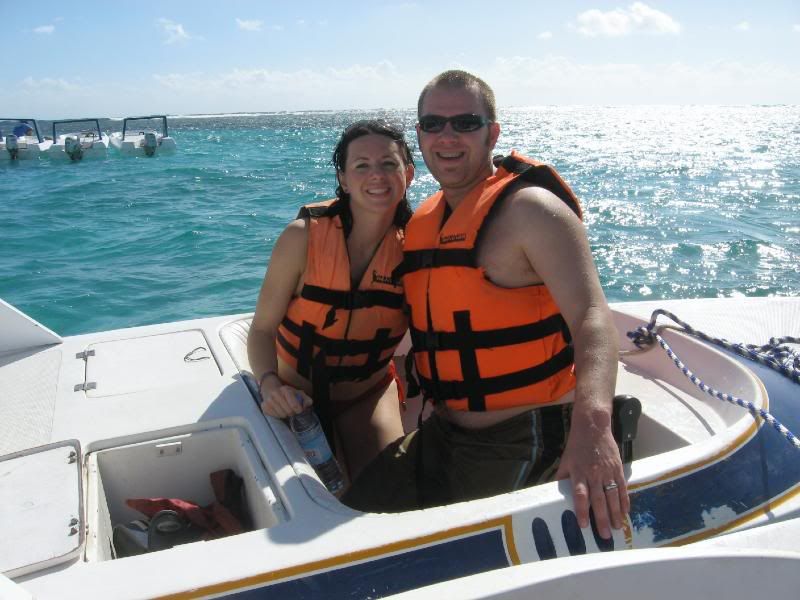 Here is some video of us riding in the boat. There is another one I could not get to upload, but I really liked it. If I can get it, I'll add it to this blog post.
On the way back, Alene wanted to take a stab at being the Captain of the ship, so we did the old switch-a-roo while driving routine. I told her now that she knows how to drive the boat, she'll have to pull all of us while we waterski this summer.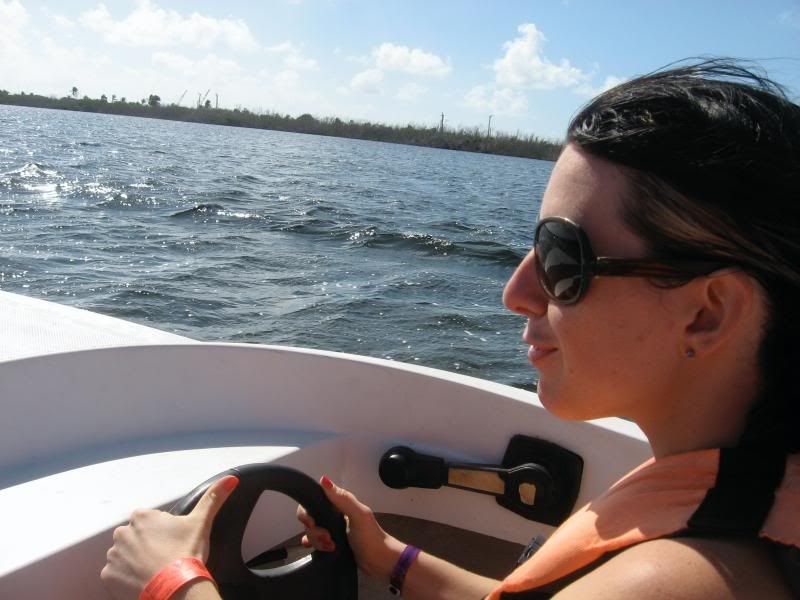 We got back to the hotel about noon or so and spend the better part of that day again lounging by the pool. The ocean was really acting up, so the lifeguards would not allow anyone to go in. We took a few pictures of the ocean during this time: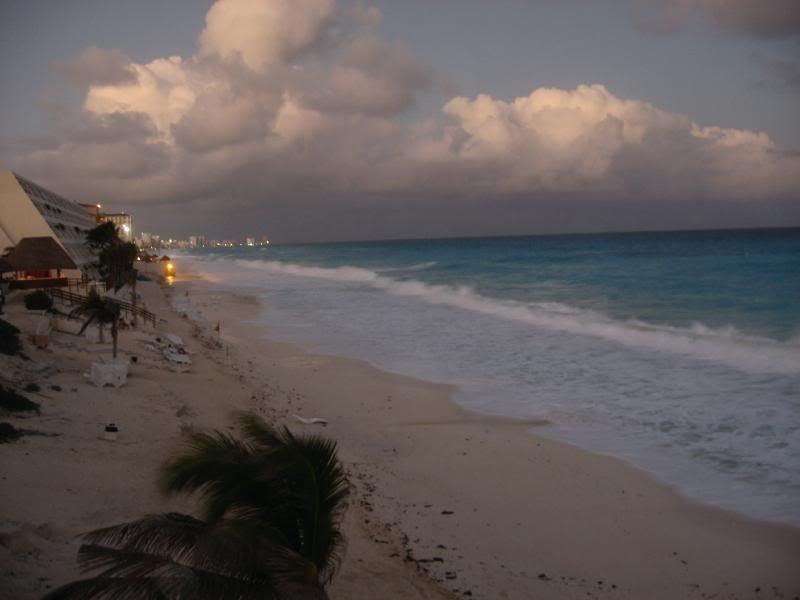 On our way back to our room to get changed for dinner, we ran into this little fella. I was scared to death to go near it, but Alene didn't seem to bother at all. It's kind of funny what things will scare us and what won't. Alene freaks out of a spider, which this thing eats, but she's not afraid of it at all.
Day 6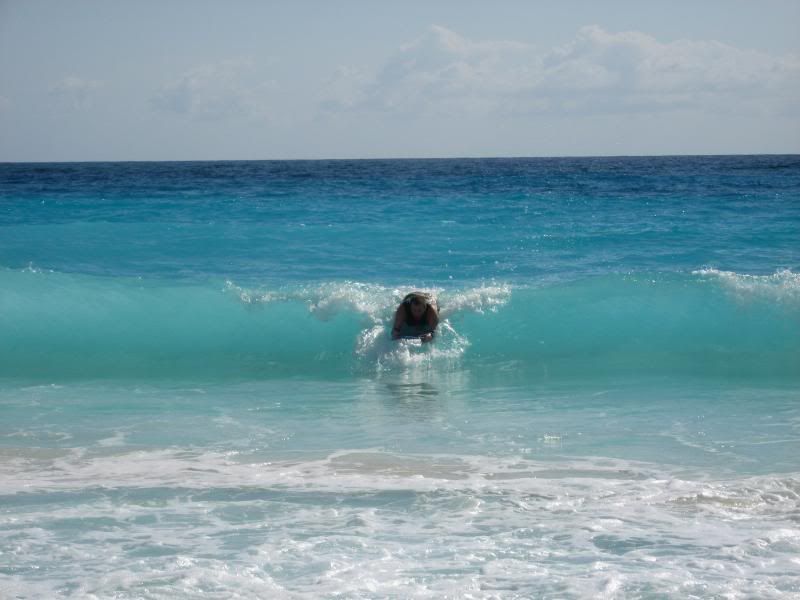 It was our last day and we had until around noon to have a little fun. We decided to not mess around and head right for the beach. I rented a boogie board. Again, the dang dis-honest lifeguard tried to charge me $10 and I knew it was $6. When I walked away back to Alene, he followed me all the way over and told me $6. What an idiot.
So, we spent the morning boogie boarding. When Alene finally wanted to try it, we both got wiped out by the biggest wave I had ever seen down there. I thought she was dead and I came up immediately (as soon as I could really because the water held me down for a bit) and saw her eventually pop up. The waves kept crashing and crashing after that, so she eventually made her way out of the water. I felt so bad for her. She did, however, capture some awesome footage of me tearing up these monster waves
Here are some other pictures of the boogie boarding
After that, Alene went to workout while I swam a bit and read more of my book (Lone Survivor). We said goodbye to the beach by taking one last picture of us. We wanted a closer shot of our faces and the beach behind us, but both people we grabbed to take the photo didn't understand what we wanted, so this was the best we could do. Thank goodness Alene is such a hottie, or the picture would have sucked.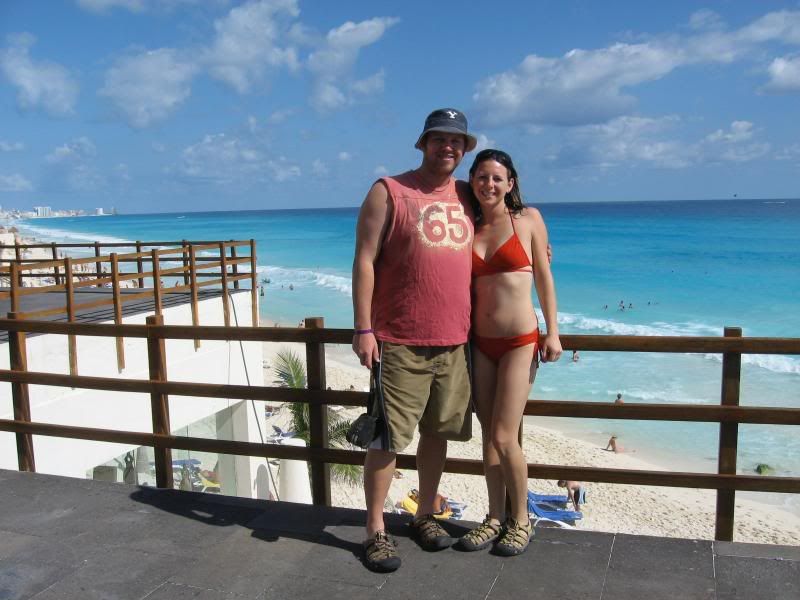 From there, we packed up and headed back to the airport. As predictable Mexican time, our shuttle bus was about 20-30 minutes late in picking us up. On the flight back we watched episodes of Lost season 3 on Alene's laptop and I got some more reading done. On our connection flight in
Dallas
, we had roughly 1.5 hours to get our luggage, check it through customs, then re-check it and get to our terminal. Luckily our terminal was in the same one as where customs was. We made it with time to spare, so we got something to eat and headed home.
Over-all, the trip was nice. It was so nice to get away and spend time with just Alene. The area was beautiful and truly a paradise. My complaints were mostly the people trying to sell us stuff everywhere we walked. It became really annoying. My other complaint was the food. Rarely did I find something I liked. Understanding that I was in another countries culture and the way they do things, I guess I expected a little more at a resort catering to people from outside their country. However, every time I ate, I realized I should not complain and that I was happy just to find food I could stomach and eat and it kept me alive. Breakfast was often Toast with peanut butter and jam, pineapple, potatoes, and scrambled eggs (although they did not quite look like the eggs we make, I trusted them). I drank a LOT of
pepsi
and bottled water.
I'd go back to the
Caribbean
, but likely not Cancun. I didn't hate it, but it's one of those "been there, done that" and there is so much more to see. I really pushed for us to go there, so the next major $$$$ vacation for the two of us will be where she wants to go.
One thing I thought of a lot was how this was the area Jeff spent on his mission. I remember when he first came home, he lived with me and it seemed that EVERYTHING we had, he
cherished
. When we ate a regular dinner, he stared at it as if it was gold and his last meal. His eyes were so wide when he drank a cup of milk, or watched a TV show with a clear signal. I could not help but think of how
grateful
I am for what I have here in America. Again, it's not that I'm saying we are better, but I would not want it any other way. I love it here in the good old USA!